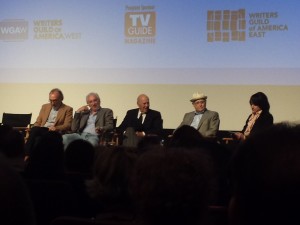 The WGA held an event last evening to announce and celebrate the 101 Best Written Television series of all time. The inspiring, talented panel included the brilliant Carl Reiner, hilarious as ever (at 91); Norman Lear, ("All in the Family"), Vince Gilligan ("Breaking Bad"), James L. Brooks ("Mary Tyler Moore"), Steven Bochco ("Hill St. Blues"), Winnie Holzman ("My So Called Life"), Matthew Weiner, ("Mad Men"), Gail Parent, ("The Carol Burnett Show"), Ronald D. Moore, ("Battlestar Galactica"), and Steven Levitan, ("Modern Family").
Highlights included Reiner sharing stories from his beginnings as a staff writer on Sid Caesar's "Your Show of Shows", which he called his college education, with among others, Mel Brooks and Larry Gelbart. He also told of how he came up with the idea for "The Dick Van Dyke Show": "I said to myself, Reiner, (I never call myself Carl when I talk to myself), I said, Reiner, what piece of real estate do you own that's uniquely yours? I realized I was a tv writer, working on a variety show in New York City, commuting from New Rochelle where I lived with my wife and kids, and figured I'd write about that."
Vince Gilligan talked about how the idea for "Breaking Bad" came to him as one of those proverbial bolts from the blue which writers always wish for, and how he was glad that for some reason the negative voices in our heads that often shout down fledgling ideas didn't take over, (somewhat to his surprise in hindsight). It was a fascinating evening, brilliantly emceed by the very funny Merrill Markoe ("Late Night with David Letterman"). You can check out the whole list here.
And for more from Reiner on his writing process, here's a link to in-depth interview.