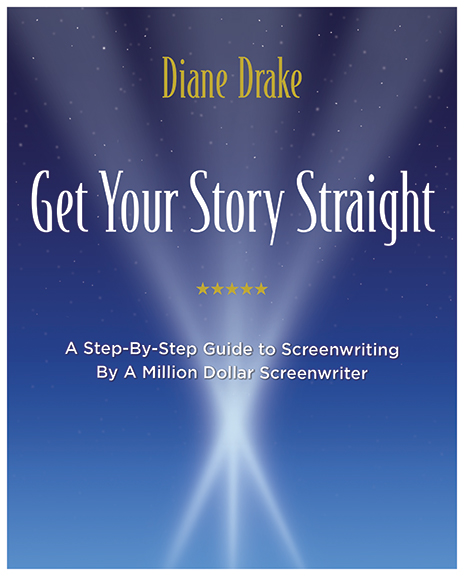 For a long time now, clients and students have asked me if I had a screenwriting book of my own. I'm truly excited to announce that I've finally made good on my threat to write one. The book draws upon my experience as a successful screenwriter of seven-figure screenplays, my background in development, including serving as Vice President of Creative Affairs for Academy Award-winning producer/director Sydney Pollack, and my work as a story consultant and as an instructor for the UCLA Extension Writers' Program.
In this step-by-step guide, I share secrets of what I believe makes a movie work, insider tips on the best ways to get your script seen, how to keep going when the muse is fickle, and much, much more.  
To read a free preview, click here. 
What others are saying:
"Diane Drake has created truly brilliant and original high-concept stories for the screen. Anyone hoping to write a great screenplay would do well to consider her advice."
~ Kim Krizan, screenwriter of Before Sunrise and Before Sunset
"Diane Drake knows about screenwriting, and lays it out for aspiring writers in this funny, engaging book. With examples from an array of genres, terrific step-by-step exercises, and plenty of inspiring quotes to keep you focused on the story you want to write, Get Your Story Straight is the first tool I would put in any screenwriter's box. This is a book I'll revisit regularly. Fabulous!"
~ Meg Waite Clayton, New York Times and USA Today bestselling author of five novels including The Race for Paris and The Wednesday Sisters
"Want to learn what it takes to write a million-dollar screenplay? Then you must check out Get Your Story Straight by Diane Drake. Her book is a thorough insider's guide to writing a script worthy of seven figures by someone who has actually done it. I highly recommend it."
~ Jen Grisanti, Story/Career Consultant, International Speaker, Writing Instructor at NBC and author of and author of Storyline: Finding Gold in Your Own Story and Change Your Story, Change Your Life: A Path to Success
"Diane Drake's experience in script development and screenwriting is both educational and inspiring. Unlike some screenwriting books that are written by those who just teach, Get Your Story Straight gives you an inside look at how one writer used her tools and experience to write engaging and successful scripts that actually made it to the screen."
~ Alan Wenkus, Co-Writer/Executive Producer Straight Outta Compton