"Above all, be the heroine of your own life, not the victim."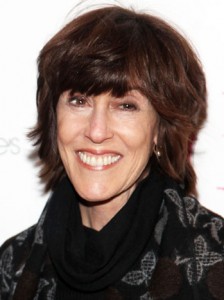 Of all the moving things written and quoted in the wake of her far too early passing, the line above touched me the most. What wonderful, wise advice, and how clearly she seems to have lived it. She's been quoted as saying, "My mother wanted us to understand that the tragedies of your life one day have to potential to be the comic stories the next."
To me, this philosophy sums up so much of what she managed to so brilliantly, artfully do. Seen from the right perspective, everything is material, and writing well really IS the best revenge. It reminds me of one of my favorite quotes on writing,
"Everything that doesn't kill you, makes you stronger. And later on you can use it in some story. "
– Tapani Bagge
We were the beneficiaries of her willingness to take this advice to heart, with courage and inspired wit. She gamely took the humiliating, the heartbreakingly painful, the mundane, as well as the joyous and celebratory in her own life and managed to weave out of it engaging tales to which millions of us who never met her could relate. In the process, she made us laugh and feel better about our own pain, and feel as if we knew her, or certainly made us wish we did. Because in addition to all of her talent and prodigious work, it appears from all available evidence that she was a genuinely nice person. A person with manners and grace and empathy, who held these things as high values. To me, this matters as much or more than all the rest of it as, (and I don't think I'm giving away any state secrets here), there are many in the media business who are powerful, and plenty who aren't, who aren't exactly what one might call "nice". BUT– there are some who are, and it's heartening to learn that one of your idols truly deserved to be considered exactly that.
So, here's to a creative, loving life, extraordinarily well-lived and so generously shared. Thank you, Nora, for being a heroine.