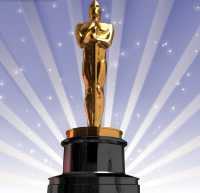 A FEW THOUGHTS ON INCREASING THE ODDS:
I have a theory– if you want a best screenplay Oscar, (and who doesn't?), one way to stack the odds more in your favor is to write a script about a particularly unlikely, yet not fantastical, event or relationship.  If you can find a way to somehow make us buy in and believe, as far-fetched as the story might seem on its surface, (and the more far-fetched, yet still very human, the better),  you're onto something.
Which, when you stop to think about it, makes sense, right?  If a story seems very unlikely on its face, chances are:  a) it's somehow original,  and, b) given that, if you are able to pull off convincing your audience to suspend disbelief and become invested, you must be a pretty damn good storyteller.  Points for degree of difficulty.  Obviously, it goes without saying that none of this is the least bit easy, and you have to be able to execute with excellence,  but it nevertheless is something to keep in mind when brainstorming your next idea if winning an Oscar is on your to-do list.
A few examples from relatively recent years:
An Unlikely Friendship:
THE KING'S SPEECH  (based on a true story)
JUNO
LOST IN TRANSLATION
An Unlikely Winner:
LITTLE MISS SUNSHINE
SLUMDOG MILLIONAIRE (did not win best screenplay, but did win best picture)
Two Unlikely Criminals:
THELMA & LOUISE
Another Unlikely Criminal and even more Unlikely Detective:
FARGO
An Unlikely Success Story:
ERIN BROCKOVICH  (another true story)
FORREST GUMP
ROCKY
GANDHI (again, true story)
An Unlikely (also true) Turn of Events:
THE QUEEN
Unlikely Coincidences (and, imho, not believable, but that didn't matter to Oscar voters)
CRASH
An Unlikely Twist on History:
SHAKESPEARE IN LOVE
An Unlikely Genius  (written by two, at the time, unlikely writers)
GOOD WILL HUNTING
An Unlikely Love Affair:
WITNESS
THE CRYING GAME
MOONSTRUCK
THE PIANO
An Unlikely Film:  
THE ARTIST — Here it's not the story within the film that is particularly unusual or unlikely, (it wasn't), but the story behind the film itself.  That a silent film in black and white would be made in 2011 and have genuine mass audience appeal was extremely unlikely.   I think that's what won the Academy voters over.  (For the record, it didn't win best screenplay, but did receive a nomination for that, and the movie won best picture.)
So, what do all these 'unlikelys' have in common?  Well, first, you'll notice that a number of them are based on true stories.  More importantly, though, regardless of whether they're based on real events or the stuff of fiction, they're about people defying and transcending our conventional expectations of them.   And I think part of the almost primal appeal of stories like these is that it reminds us of one of the things I like best about Hollywood — sometimes anything can happen.
You may thank me in your speech.